Delta Microscopies has specialized since 2003 in the marketing of consumables and accessories for light and electron microscopy (reactifs, copper grid, carbon rods, tweezers, standards, liquid-index , more 22000 references products …
We are distributor of several brands partners who have trusted us since many years. We want to promote, inform and train our customers about the commercial and technical offer.
.
headquarters and laboratories of Delta Microscopies south of Toulouse – France
Our offices at 22bis, Saint Ybars road. 31190 Mauressac – France (a few kilometers from Toulouse (France))

Delta Microscopies is a major supplier of asbestos analysis laboratories, environments, materials, …
    Delta microscopies is constituted by a tight and very competent team. microscopists with a lot of experience advise you every day on the choice, use and implementation of your projects in electron microscopy. In addition to its administrative and logistical pole, Delta Microscopies has two laboratories (microscopy and chemistry) equipped with preforming materials. these two laboratories are supervised by a very competent staff constituting the R & D team.
Our R&D Department reinforces our know-how by designing and manufacturing our own products in line with customer needs.
1- Microscopy laboratory::  transmission Electron Microscope with Megaview III camera, ultramicrotomes, knifmaker, Automated sample preparation for MET Reichert Leica, Trinocular photonic microscopes with camera, StereoZoom, Digital trinocular microscope,
2- chemistry laboratory:  hoods (chemical and laminar flow), centrifuges, agitators, filtration system, deionized water and MilliQ production, phMetincubators and ovens, vacuum chamber device,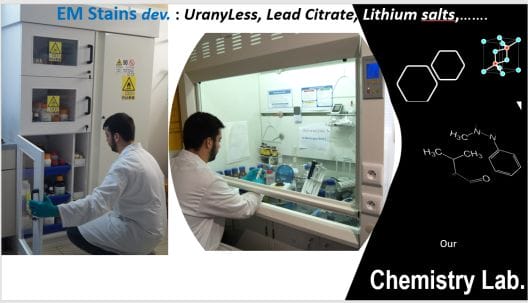 …..
brief overview of our products developed by our R&D department of DELTA Microscopies……
 – NanoFilm for EM
we are developing  a nanofilm for electron microscopy with  technological partners .
our Nanofilm team in the clean room
our development and production silicium technology for application electron microscopy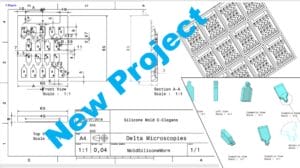 Delta Microscopies developed with Pyser SGI  UK  the Correlative Microscopy Coverslip TM